Culture, history, beauty, and luxury are yours when you travel to Greece with a bespoke itinerary from Lugos Travel. Experience the region that founded Western civilization and launched the Olympic Games, while basking in the warm sun and marveling at the beautiful sandy beaches, crystal blue Aegean Sea, and breathtaking vistas. Take in Athens, Delphi, Olympia, Santorini, and Kalambaka with a perfectly planned luxury vacation of a lifetime.
While most people want to take a vacation to get away from work and stress, in many cases, planning a vacation on your own can mean hours spent researching flights, activities, attractions, and transportation. The professionals at Lugos Travel take the stress and frustration out of the process, with vacation itineraries researched, planned, and tailored just for you. And with breakfasts included, upgraded rooms, 24-hour concierge service, city-centered and historic hotels, private guided tours of itinerary cities, first-class transportation, and welcome and farewell dinners, Lugos Travel vacations include everything you need for an extraordinary vacation experience.
The Ancient History of Athens
During your private guided tour of Athens, visit the Acropolis, a must-see complete ancient Greek complex that includes the Parthenon, the Propylaea, the temple of Athena Nike, and the Erechtheion, an ancient Greek temple dedicated to both Athena and Poseidon, with its graceful Porch of Caryatids. View the Catholic Cathedral, the Academy, University, and National Library while en route to the new Acropolis museum, featuring an Ancient Athens exhibition with more than 4,000 artifacts unearthed from the Acropolis.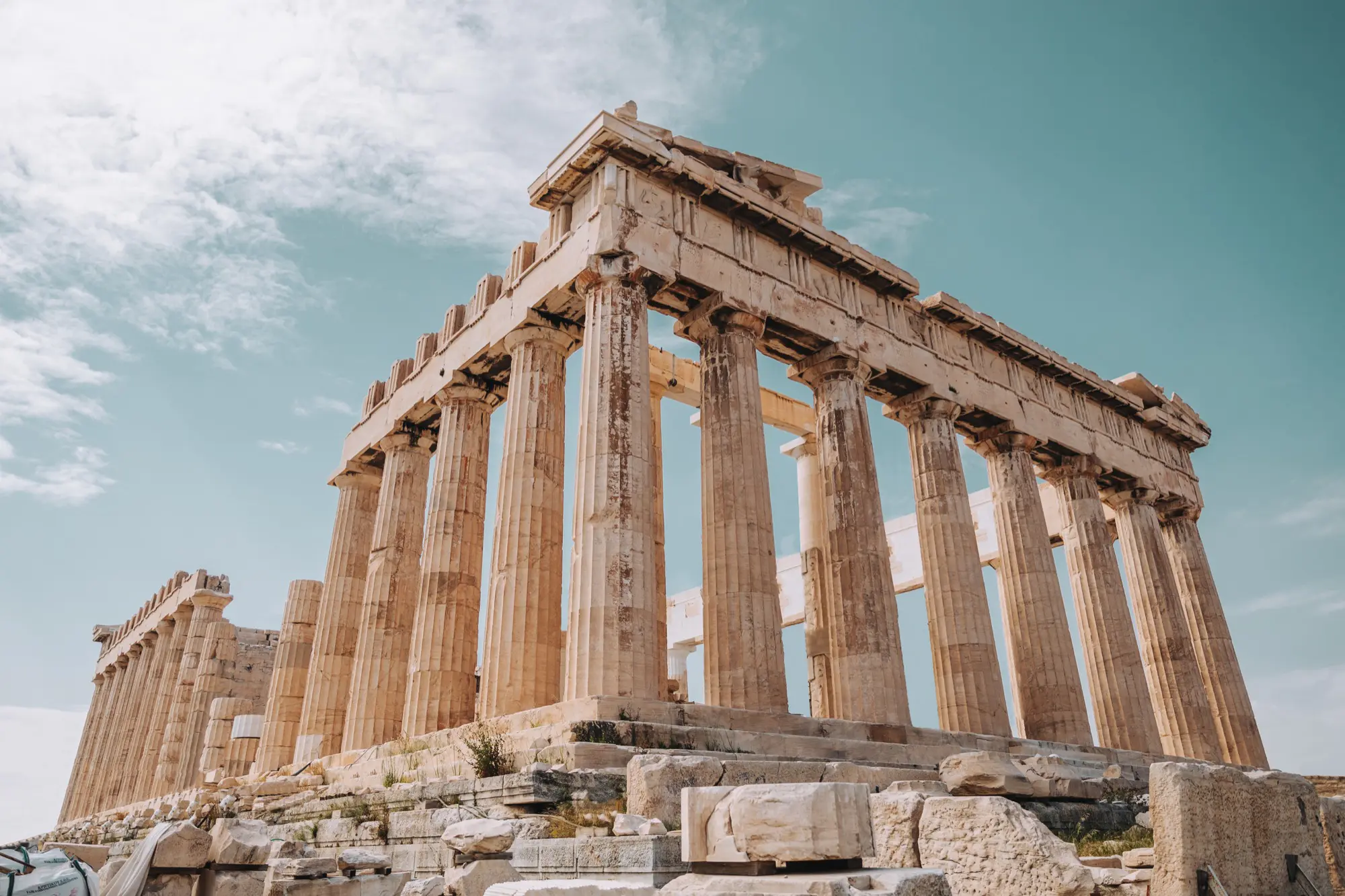 Mainland Marvels
Explore Greece's mainland, including stops in Epidaurus, Nauplia, and Mycenae on the way to Olympia to visit the ancient home of the Olympic Games, where the Olympic flame remains lit in tribute to Hercules, son of Zeus. While in Delphi, you'll marvel at the ruins of the temple of Apollo, then visit the museum to view the classical statue and bronze wonder that is the "Charioteer of Delphi." In Kalambaka, visit monasteries and breathtaking Meteora.
Santorini: Luxury Greek Island Living
Finally, on the island of Santorini, enjoy a 5-hour catamaran sunset cruise along the caldera while swimming and snorkeling in private bays such as the famous volcanic hot springs. On board, enjoy exquisite seafood and famous Greek cuisine as you take in the vibrant Santorinian sunset. Gorgeous views, luxury hotels, private transfers, and delightful entertainment ensure a quintessentially first-class Greek experience.
Lugos Travel Professionals Make Trip Planning a Breeze
Lugos Travel can plan a fully custom vacation in less than an hour, including optional trips and tours to round out an amazing travel itinerary. Lugos Travel proposals are good for travel every day of the year, allowing you to plan travel dates at your leisure. With optional add-ons, such as private wine tours, personal shopping, or a private sunset kayak and snorkel exploration, bespoke travel is right at your fingertips.
Lugos Travel's breadth of experience, attention to detail, and high-quality personal service ensures that your luxury travel to Greece will be second-to-none. Visit Lugos Travel's website today to request a proposal and personalized itinerary, or call Lugos Travel professionals at 646-930-4496 and let them begin the process of planning the vacation of a lifetime just for you.